Happy Birthday ZoomIn – 3 today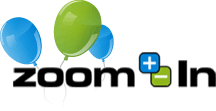 ZoomIn is 3 years today ! October 29th in 2005, ZoomIn was launched to the world. Currently we have 78734 places and 11558 users on ZoomIn ! Thanks to everyone who has contributed to ZoomIn.
ZoomIn has come a long way since that date, here's a look at some the changes that have happened over the last 3 years.